Introduction to Packrafting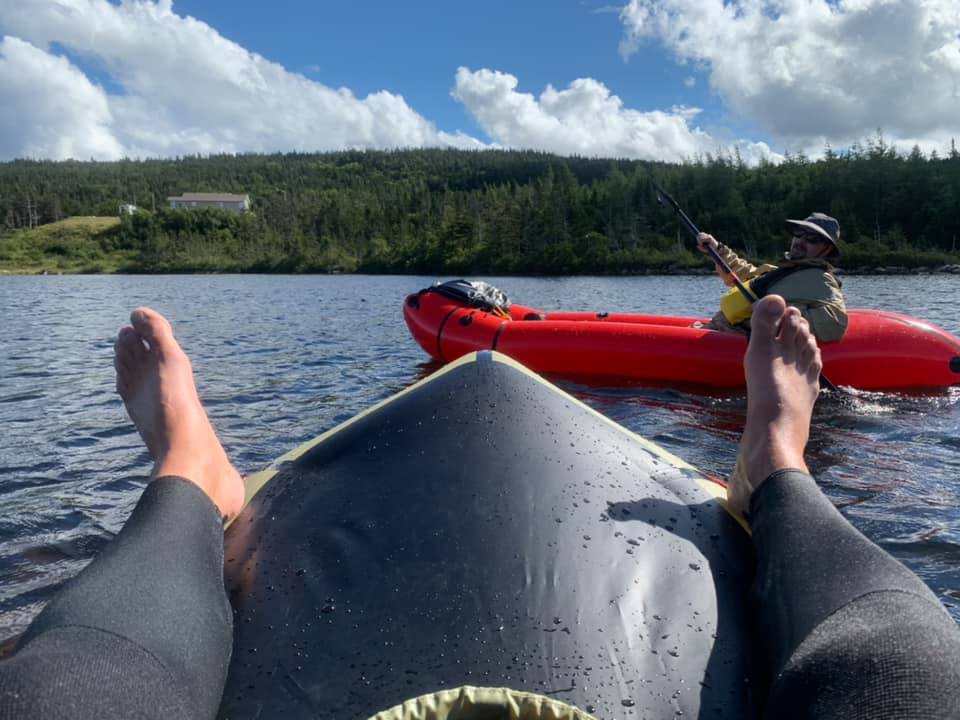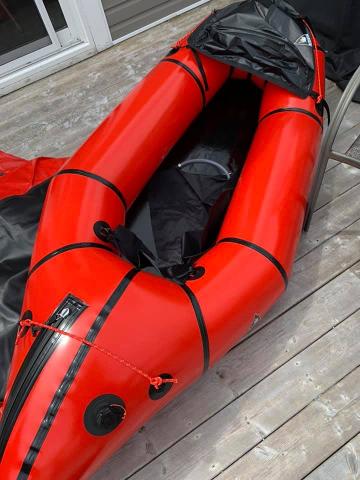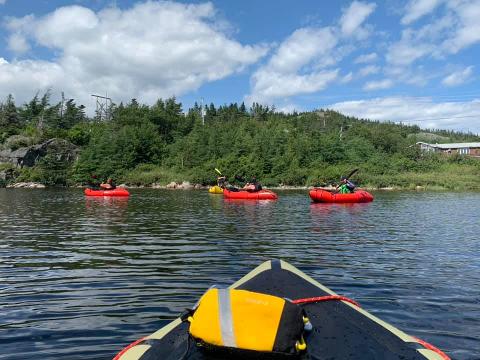 Duration: 8 Hours (approx.)
Location: Cape Broyle, NL
Product code: PZ1REV
Summary
What is packrafting? Taken from the American Packrafting Association
Packrafting is basically a combination of backpacking and rafting, but people also use other modes of transportation, such as mountain bikes, to access lakes and rivers. "Packrafting" is using a small, lightweight inflatable boat to do whatever you would do in a bigger boat. By "small" we mean generally one person. By "lightweight" I mean less than ten pounds — generally five pounds or less. By "whatever a bigger boat can do," I mean cross and float rivers, streams and lakes, even run rapids or cross saltwater bays and fjords. A packraft, easily carried while you walk, run, bike, hike, ski, drive, or even fly, encourages amphibious travel. Packrafts can be used to get into and out of otherwise hard to reach hunting, fishing, and climbing areas, or they can be used for "sport-boating," paddled alongside kayaks and other whitewater craft on rapid-filled runs. But mostly they are as much fun to paddle as mountain bikes are to ride. They put joy into boating.
Introduction to Packrafting is a short program emphasizing safety, enjoyment and skill acquisition for entry-level individuals. This course applies to packrafts and inflatable kayaks, including traditional decked, non-decked, and self-bailing vessels. Boats will be paddled solo. We hold this course on calm, flat water, protected from wind, waves and outside boat traffic, with no apparent current and within swimming distance of shore.
Trip Details
We meet at 20 Southside Rd. in Cape Broyle, Newfoundland at 9am where we spend the morning learning core course content and packraft basics. Following a one hour lunch you will earn how inflate, pack, and paddle your Packraft on land. To finish off the day we will go for a paddle on Horsechops pond where we will practice our new skills and learn rescue techniques.
What's Included:
Alpacka or Kokopelli packraft
Wetsuit, PFD and other required
safety equipment.
What's not included:
Gratuity (recommended)
Syllabus:
1) Personal Preparation
Personal ability

Swimming ability

Water comfort and confidence

Fitness, conditioning, and warm up

Safe paddle and boat-handling

Safety and rescue considerations

Personal equipment

In addition to learning hard skills, the importance of developing personal judgment and group responsibility increases on more difficult paddling venues
2) Getting Started
Packing, carrying, storing, and inflating

Launching, landing

Posture, rocking, and balance

Effective body usage

Basic terminology of paddling equipment
3) Packraft Basics
Types and parts: sizes, geometry, deck, combing, skirt, self-bailer, cargo zippers

Outfitting: comfort, safety, entrapment hazards

Outfitting: thigh straps, seat height and position, backrest, perimeter lines, tails, locking carabiners

Spray skirt: grab loop!

Stability

Tracking

Paddle: types, parts, length, and hand position

Paddle leashes: flat vs. moving water

Life jackets (PFDs): fit and regulations

Appropriate clothing: comfortable/protective:

Wet/dry suits

Footwear

Care of equipment:

Packrafts

Dry suits

Other equipment
4) Packraft Repair: field repair techniques and materials
5) Packing of Equipment:
Securing backpacks and other cargo to your boat·
Additional personal and group equipment
6) The Paddling Environment
Wind

Waves

Weather

Water

Open water crossings
7) Strokes
Stroke components: catch, propulsion, recovery, control and correction

Safe and effective body usage

Communication: signaling, with hand, paddle, whistle (Universal River Signals System)

Types of strokes: power, turning:

Forward

Back (stopping)

Draw

Sculling draw/brace

Sweep (including stern draw)

Reverse sweep

Rudder

Low brace to avoid capsize
8) Safety & Rescue
All participants are to be asked to demonstrate a controlled capsize and an appropriate rescue.
Water comfort and confidence

Controlled capsize/wet exit

Swim the boat to shore (short distance)

Emptying a packraft

Deep water exit/re-entry

Assisted Rescues/re-entry

Responding to sudden deflation (popped boat or accidental cargo fly opening)

From boat:

Bulldozing

Towing Maneuvers

Spin: boat pivots in place

Abeam: boat moves sideways without headway

Forward: boat goes forward in a reasonably straight line

Stopping: boat stops within a reasonable distance